First off, to all of the USA residents ::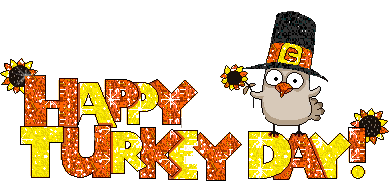 Happy Thanksgiving!
I hope you all have a very happy Turkey Day with your loved ones, and eat lots of Turkey and/or Tofurkey. No, I would never forget the vegetarians of the world. I do hope that you all remember what this day is about, and be sure to give thanks to all that you have in life, because no matter how little you have, it's more than some others have.
I am certainly thankful to have such a great family and close friends in my life to keep me sane and grounded. I'm also thankful to have a job in this hard time. I'm also very thankful to all the years I got to spend with my grandmother before she passed.
And books. I am so grateful to have books, otherwise I'd be majorly bored all the time.
Now onto the second part of this post ::
I'm on a blog...and not my own, lol.
Just Your Typical Book Blog
has this awesome weekly post thingy called
Rock This! Thursday
and, though Amber has been neglecting it, she's started it up again. She's been sending questions to other bloggers about their fave songs, bands and books about music the past few days. Her first post was today, and guess what? I was lucky number one.
Go check out
Rock This! Thursday with Me- The Ultimate Dumpees.
:)
Also, it's on my sidebar and I already psoted about it, but there is an awesome contest going on over there. So check that out, too!